Archives for October 19, 2017
NewEgg launched a massive open-box and clearance sale featuring over 2800 items. Many of them need the promo code shown on the listings to get the discount. The promo code requires an email address before you can enter it. The coupons expire on Monday night.
Adorama launched a new 48 Hour Sale featuring a variety of accessories and camera gear. More on these later in the day as I can't stop time from rolling forward and onward 🙂
Online shopping got a bit stale in terms of innovation before the explosion of mobile, and now, the much tighter integration of digital and "real world" is bringing more crazy things, like Amazon's Treasure Truck.
NewEgg doesn't have Amazon-type of real world infrastructure, but they have YouTube technology! Every Thursday at 1pm ET, they are starting a NewEgg NOW Live Stream talking about various tech products and services, and while that stream is running, below it, a variety of tech deals are offered.
The Sony RX100 V rawsumer goes for $1000 at authorized dealers, which are allowed to be bundle it with things. B&H Photo is bundling it with a $50 B&H Photo e-gift card.
If you prefer an accessor-a-palooza instead, Beach Camera thru Amazon offers a boatload of free accessories (including useful things like 64GB Sandisk Extreme SDXC and extra charger/batteries), and so does Cameta thru Amazon.
But if you prefer a lower out of pocket price, and you are comfortable with open-box, then to the eBay Deals we go, where the official Best Buy eBay store is offering it in open box condition for $80 with free shipping. Limit three per customer.
If 3TB is your favorite storage option, the BuyDig Rakuten store is offering the 3TB Seagate Backup Plus USB 3.0 External Hard Drive for $73 with free shipping after you enter promo code BYD9 at checkout. The price before the coupon is $83. Coupon expires 10/23/17 PM or earlier if sold out.
Speaking of Rakuten, the Dell Rakuten store (yes, Dell opened a Rakuten store) is offering the Dell UltraSharp 24 Wireless Connect Monitor for $230 with free shipping after promo code DELL30 entered in the shopping cart. Coupon ends 10/22/2017.
If you don't want to pay Samsung and Apple and iGoogle nearly four figures for their latest flagships, but still want to get a solid smartphone, the fourth generation of the Moto X is rolling out for $400. But if you are a Prime member and don't object to seeing Lockscreen Offers and Ads, Amazon is offering this model for $70 less, you can get the Lenovorola Moto X4 for $330 in either color scheme. Limit one per color per customer. It will come out October 26 (2017).
This is an all-carrier phone, it works with all four major US carriers (AT&T, T-Mobile, Sprint, Verizon), which will likely (other things equal) help with its resale value as long as most phones sold are not all-carrier phones.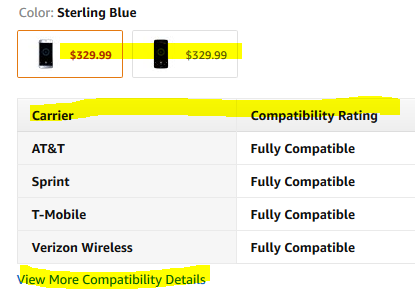 Of photography interest, it has dual rear cameras and microSD slot and IP68 water resistant. With 3GB RAM and Snapdragon 630 and 32GB on-board and 5.2″ 1080p screen.
These daily deals expired… The Friday daily deals, good until Saturday night, do not have any camera and photo items…
This 1-day coupon expired…