Archives for October 17, 2017
B&H is back after the holidays and with it are the new Canon M100 mirrorless kits, available in various kits with the M100 w/15-45mm going for $599 in black or white, while the two lens kit (15-45, 55-200) goes for $949 in the same two color schemes.
It's lens pre-order round-up time now, with a handful of new lenses available at pre-order at B&H Photo:
Autofocus technology once again at Rokinonlandia, the Rokinon AF 35mm f/1.4 FE for the Sony E system goes for $799.
Leica is back too with another M system lens, pre-orders are accepted for the Thambar-M 90mm f2.2 for the Leica M system for $6500.
This too have been added to the New Lenses of 2017. Speaking of which, it's just 2.5 months away until "Happy 2018" 🙂
If left unattended, Lensbabies multiply like bunnies! A limited edition Velvet and Twist Gift Set is available for pre-order for $1299 in the Canon, Nikon and Sony E-system. Each gift set includes:
+ Twist 60 Optic with Straight Body
+ Velvet 56mm f/1.6 Lens
+ Velvet 85mm f/1.8 Lens
+ a very expensive way to tell someone you hate them with this gift set 😉 #TROLL
Other pre-orders at B&H
While we are talking B&H Photo and pre-orders here's a few more items that are now available for pre-ordering:
+ Lowepro m-Trekker BP150 Backpack for $120 in two color options
+ ASUS 15.6″ Republic of Gamers Strix Hero Edition Notebook for $1599
+ i7-7700HQ Quad-Core, 16GB DDR4, 256GB NVMe SSD + 1TB HDD, 15.6″ 1920 x 1080 120 Hz IPS, NVIDIA GeForce GTX 1060 (6GB GDDR5), etc
+ Lenovo Explorer Mixed Reality Headset for $349
The Canon 6D body only (first generation) goes for $1400 at authorized dealers (eg Adorama or Amazon itself). Or it goes for $1200 in manufacturer refurbished condition with a 1-year warranty at the Canon Outlet store…
… but if you prefer to save some more, off to the eBay Deals we go where eBay seller 6ave (98.9%, New Jersey) is offering it for $1000 with free shipping in imported grey-market condition with a 1-year seller warranty. Limit up to three units per customer…
With the newest second generation model, the Canon 6D II body going for $2000 in new condition at authorized dealers, you'd be paying half for the previous generation.
Three models in the Benro BV-series of aluminum tripods are on sale for a limited time at B&H Photo with prices ranging from $699 to $899. Two are leg kits (BV8, BV10), while the more expensive includes a ball head.
For more sales, now that B&H is back after the Sukkot holiday, check their Featured Sales. Any previously placed orders should be getting processed and on their way to you by now.
If you qualify for the "Prime Student" membership, you can sign up for a Prime Student Membership for $49 per year (half off the regular Prime membership). But if you prefer to pay month to month, or you only want to use Prime a few months per year (like a Netflix subscription you can start/stop at any month), at the above page, there is an option for month to month. Click on the "See More Plans" box over there: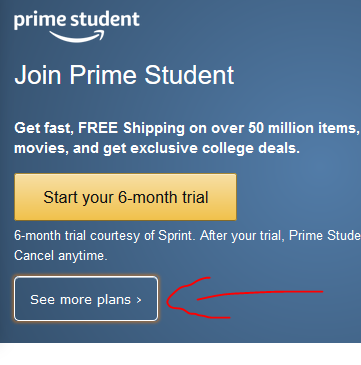 In terms of value, the annual membership costs less than month to month, and at the moment, if you haven't done a Prime Student membership before, they also have a free six month trial for annual memberships ~ co-sponsored by SPRINT apparently. There are many Prime Benefits but it's up to you to decide whether they are worth the price of admission.
This lightning deal expired… If you missed it, fear not, YI camera gear are recurring "guests" of the Lightning Deals…
Happening now in the Amazon Gold Box, good until 2:05pm ET today, you can get the new condition YI Lite Action Camera for the very specific price of $81.59 with free shipping, sold by YI with the orders fulfilled by Amazon so they are Prime eligible. The price before the sale was $100 last night. It averages 4.2 out of 5 based on 22 customer reviews.
This 2-day offer expired…
The new condition Olympus MCON-P02 Macro Converter is currently going for $49 with free shipping at B&H Photo and Adorama, defeating the refurbished price of $56 + S&H at the Olympus Outlet store.