NOTE!!!: you have to be eligible for this promotion to be able to see it! If you are not eligible or not logged on to your eligible Amazon account, you will see an almost empty page, something like the annotated screenshot below: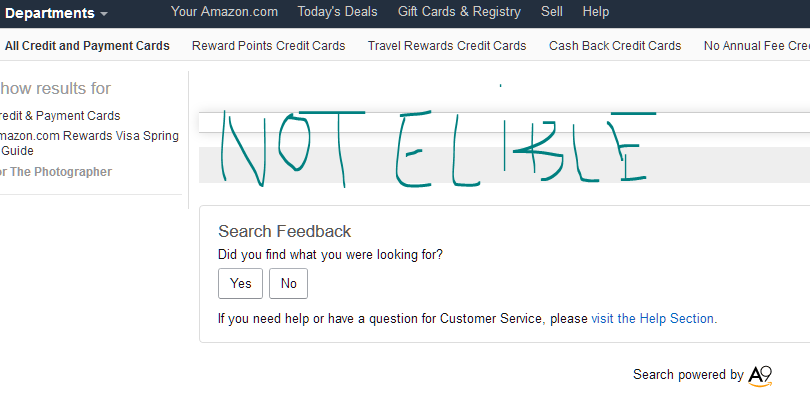 On the other hand, IF YOU ARE ELIGIBLE, you will see the actual promotion…
If you have the Amazon Rewards Chase VISA credit card, there is a hot new promotion for you at Amazon. You have to pay with the Amazon Chase VISA credit card and enter coupon code ARC20SPRING at checkout. The offer is a limited time while supplies last type of promotion, it expires by 6/30/16. Limit one per customer, so use it wisely.
Click on the category thumbnails over there to find the category of your choice. I am highlighting the "hot zone" in the "professionally" annotated screenshot below: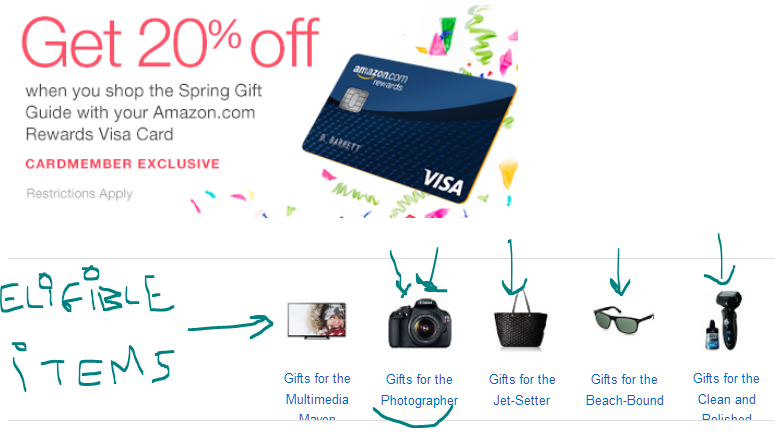 There is a total of 20 items eligible in the Camera and Photo category. I will go through them and post separately for any that scream.
As usual with these type of offers, it only works on items sold and shipped by Amazon herself. Items sold by 3rd-party sellers are not eligible ~ even if they are fulfilled by Amazon. Amazon itself has to be the seller of record and the shipper.
UPDATE: the offer works if you have multiple ELIGIBLE cameras in your shopping cart. I put two different D-Rebels and it showed a 20% off discount on the total amount, eg both got discounted.