Do you often find things you like at Groupon, but end up not getting them because your order total is under $35 and adding the $3.99 shipping fee ruins the deal?
Just in time for the upcoming Holiday Shopping Season, Groupon is offering a 90-Day Free Shipping Subscription for a $15 one-time fee.
It's like a Mini Prime. This gets you free shipping on every eligible order for the next 90 days. Typically Groupon offers free shipping on orders of $35+. So if you think you are going to place four or more orders in the next 90 days that would otherwise charge you $4 shipping, then you come ahead.
The 90 day clock starts with purchase date. For example, if you purchase it today, it would run until January 12, 2018 [both October and December have 31 days].
Here's an annotated screenshot of their summary of terms and conditions: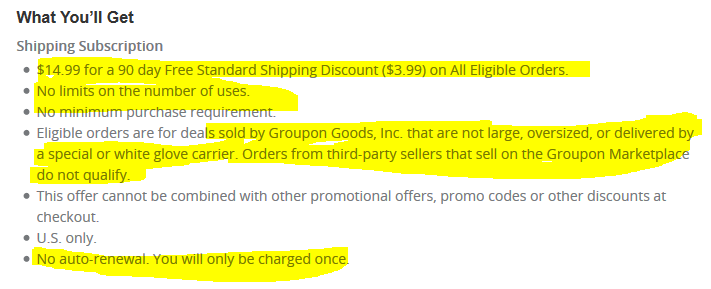 RESTRICTIONS: just like Prime, this offer only applies to items sold and shipped by Groupon Goods. Items sold by Marketplace sellers (3rd-party sellers, not Groupon itself) are NOT eligible for the offer. Not eligible are items that require special delivery or white glove and such.
In other words, items that would otherwise get the standard $3.99 flat shipping will be get free shipping while you are subscribed to this mini-Prime.
This will likely increase impulse buys, so if you are trying to avoid those, this is probably an enabler!