Some thought the day would never come, but as of February 18 in 2018, this is for real! Amazon Prime members can now receive free standard shipping for most of their Woot purchases. This was announced on the official Woot blog and there are also notices scattered throughout the Woot website.
The benefit is free standard shipping, not free 2-day shipping, but it's definitely better than paying $5 per calendar day for purchases. T-shirt purchases however get "free express shipping" which makes sense, since they are lightweight and they can be compressed for shipping purposes to the size of a burrito if need be.
Here's an annotated screenshot from the Woot blog summarizing it: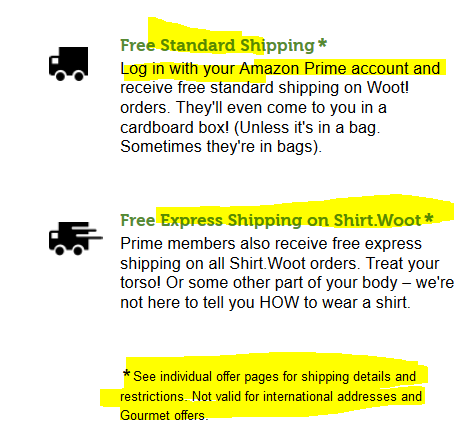 There are some exceptions though. "Gourmet" items, sold by the Gourmet sub-Woot (formerly Wine) are not eligible. You'll get confirmation on the product page and the shopping cart on what qualifies.
If you are a regular Woot shopper who's not a Prime member, it's not a bad idea to give it a try, they offer 30-Day Free Prime Trials. If you make Woot purchases on 20 different days during a rolling 12-month period, that's the price of a 1-year Prime subscription (20 x $5 = $100).
The list of Prime benefits is getting longer and longer. Take a comprehensive look at our Amazon Prime Benefits mega-post at the main blog.