This is an older post…
These lighting deals expired… For future ones in the future, check the Amazon Gold Box and Camera & Photo page…
UPDATE: this is getting closer! I don't know what the sale price will be, so YMMV. It will be revealed over there at 8:04pm ET tonight!
There is one blockbuster lightning deal of potential interest on Wednesday at the Gold Box which you can also filter by Cameras ONLY or Electronics… Also note that if Amazon itself is the seller of a lighting deal, you should be able to combine it with the AMEX $25/$50+ Membership Points offer…
Starting at 8:04pm eastern on Wednesday (5:04pm pacific time), they are planning to have a lightning deal on the Canon 17-40mm f/4L EF Ultra Wide Angle. The price before the sale is $749. The sale price will be revealed at Amazon when it goes live. Here's a screenshot of the teaser from the Gold Box (Amazon's time is pacific time).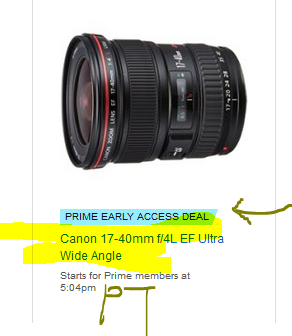 Starting a few minutes later, at 8:19pm ET, there will be a lightning deal on the 2TB Buffalo MiniStation Extreme NFC USB 3.0 Rugged Portable Hard Drive (HD-PZN2.0U3B; (price before sale $206).