Stop the Presses! If you have an American Express credit card with Membership Rewards points, there's a pretty good deal happening at Amazon.com. You get a $25 off discount on an order of $50+ of eligible products if you pay with an American Express Credit Card and (at least partially) pay for the order using Membership Rewards points and enter coupon AMEX17EVER over there. This is a feature Amazon calls Shop with Points. "Shop with Points" is available to everyone, it is not an a Prime Benefit. You can select how many Membership Points to use at checkout. You can use as few as you like.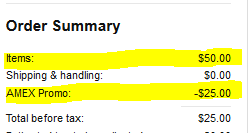 UPDATE: only items sold and shipped by Amazon itself are eligible. Items "fulfilled by Amazon" are NOT eligible. Items sold and shipped by 3rd-party sellers are NOT eligible.
HOW TO GET THIS DEAL
Add your American Express credit card with Membership Rewards points to your Amazon account. I believe the Pay with Rewards may happen automatically these days, if not, follow the prompts as the Amazon page will remind you
If your AMEX is already linked to your Amazon account but the "Shop with Points" feature is not activated, you can manually start the process
find items of interest that total $50 or more
add to cart, proceed to checkout, select the AMEX credit card as your payment method, and select the option to apply points towards the purchase. It's your call, you can use all your available points or as few as you like. The exchange rate is not favorable (it's less than 1:1 as you can see in the screenshot below), so don't use a lot of them
enter coupon code AMEX17EVER in the coupon / gift card box below
then look at the top right corner of the Checkout page – if all is well, you will see a $25 off discount of your order total (see screenshot above)
and that's it 🙂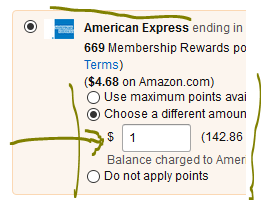 STRATEGERY
Promotions like this are great for getting a discount on products that rarely get discounted or have the same prices everywhere. You can use them as a capital/infrastructure purchase (eg a new lens) or you can buy a handful of consumables (memory cards, flash drives, cables, etc), or camera and photography books.
PLACES TO CHECK for DEALS
+ Camera and Photo pages
+ Electronics pages
+ Gold Box / Lightning Deals
+ the Elsewhere at Amazon segment at the bottom of the daily Lightning Deal round-ups
+ $50 Gift Cards of other retailers, eg $50 Starbucks Gift Card or $50 Whole Foods Gift Card or any of your favorite or frequent retailers that Amazon carries (eg Restaurants)
+ $60 Netflix Gift Card for $35 after this promotion (you can load it up to your own Netflix account, you don't have to give it to someone else)