This Green Monday lightning expired…
Good until Tuesday night (11:59pm pacific), the official National Geographic store has a 40% off sale on Books and Atlases (including their various photography books) and Educational DVDs/Videos (including the photography training DVDs) and Maps. There is no coupon code to enter, the price drops in the shopping cart the moment you press the "add to cart" button.
Here's an annotated screenshot example, the "Getting Your Shot" book goes for $20 on their website, but when you press add-to-cart, it drops to $12: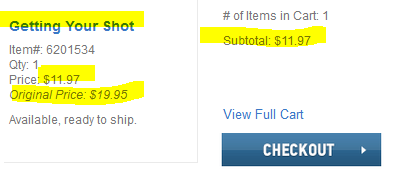 UPDATE 11/29/16 PM: the prices at National Geographic increases, but some of the options at Amazon (DVD or Instant Video) continue for $60.
ORIGINAL POST: Also among the latest National Geographic specials is a sale on the Great Courses DVD set of "Fundamentals of Photography" (with Joel Sartore; 24 episodes; 2012) for $60 with free shipping. NOTE: the price at National Geographic went up, but the paragraph below continues for $60.
Great Courses is also offering it for $60 through Amazon as a DVD set or as a Digital Video purchase.
IF you are not familiar with this, and want to get a feel for it before committing any money to it, you can start a 7-Day Free Trial to the Great Courses Signature Collection through Amazon Instant Video. This is an $8 per month monthly subscription, which you can cancel at any time. Cancel before the free trial expires if you want to avoid any charges. (NOTE: Video Subscriptions available for Prime members only).
In addition to Photography I, also on sale for the same price are these sets: