This is an older alert… for the latest update, follow the Gold Box Yellow Brick Road…
While digging into the Amazon Gold Box, lost in a sea of recurring camera and photo accessories was this surprise "Upcoming" deal, the new condition Canon G9X rawsumer will be a lighting deal on Tuesday December 12.
The listing does not specify a time, so I don't know if it will begin at 3am ET on Tuesday or later in the day. Here's all the info the Gold Box provides: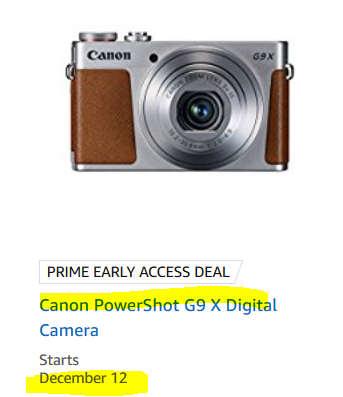 PS: there is a small chance this may get cancelled or rescheduled. The vast majority of previously scheduled lightning deals go live as expected, but a small number of them get cancelled or rescheduled. I have no way of knowing this ahead of time.