NOTE!!!: this is a YMMV promotion. I have no way of knowing how many people are eligible.
If you have an Amazon Chase VISA credit card and you are eligible for this promotion (detailed post explains the promotion ~ I don't want to repeat the whole post) and logged on to your eligible Amazon account, there is a super hot deal [you will only see the offer if you are eligible] for the Sony 70-200mm f2.8 (SAL70200G2) [this is the lens page, everyone will see this].
The standard price for this lens is $3000. You add the Sony 70-200mm f2.8 (SAL70200G2) to your shopping cart, make sure your payment method is the Amazon Chase VISA credit card, and enter coupon code ARC20SPRING there. The price will drop by 20% in the right sidebar of the Amazon Checkout page, making it $2400 (rounded) with free shipping. This has to be sold and shipped by Amazon itself, not 3rd-party sellers.
If it doesn't, it means the promotion is not working, either because you are not eligible or you are using a different payment method or Amazon is not the actual seller or for other reason(s) that I am not aware of.
If all is well, it should look like this: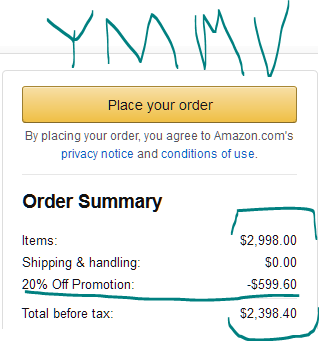 Again, please note this is a YMMV type of an offer, I have no way of testing this at a grand scale. I tested with an account with the Chase VISA card, one without it, and not being logged on to Amazon.
IF you tried this and it worked or didn't please let us know in the comments!