Amazon has a new sale on their ebook readers that is currently for Prime members only [exclusive discounts on select products at random points in time is one of the ever-expanding Prime benefits], with the discount appearing after you add the item in the shopping cart. No coupon needed. The offer continues as long as you see the discount mentioned over there in the product pages of the eligible products [see screenshot below]:
+ entry-level Kindle for $50
+ Paperwhite for $90 [bang for the buck model features-wise] ~ also available in White [select that in "Customize & Add to Cart"]
+ Voyage for $150
+ limit two of each per customer during the sale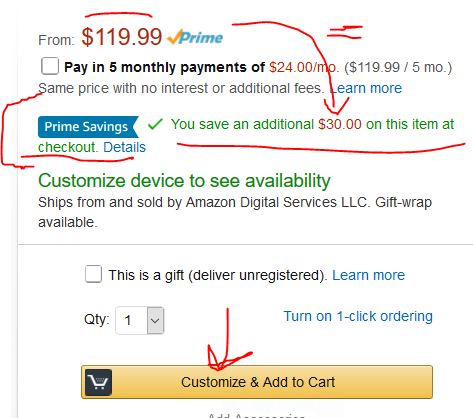 Photography ebooks and camera manuals are not ideal to be read on an e-ink screen for most people with the current technology level, but there is a small number of text e-books about photography, eg, photography essays including the classic read "On Photography" by Susan Sontag.
PS: you can also find these in the Elsewhere at Amazon sections of the near-daily lightning deal round-ups.