As of 1/21/18 AM recheck, this promotion expired… Original post after the break for historical reference…
A total of eleven cameras and five lenses are currently eligible at Adorama to receive a free ThinkTank Bag and Joby GorillaPod. While this promotion is running, these are mentioned on the individual product page of eligible cameras, and will be added to your shopping cart automatically by the Adorama servers and their price will be adjusted to zero by the time you reach the checkout page.
The eligible camera kits are:
+ Canon 6D or 7D II body onlies
+ Canon 80D w/18-55, 77D w/18-135, M5 w/18-150
+ Nikon D750 or D610 body onlies
+ Nikon D7500 with 18-140
+ Fuji X100F
+ Panasonic GH5 body
+ Sony a6500 body
+ five lenses from Canon, Sony and Zeiss
+ see them all at the promotional page at Adorama
To see an example, check the Fuji X100F product page. The offer is shown there while it is running. Screenshot below: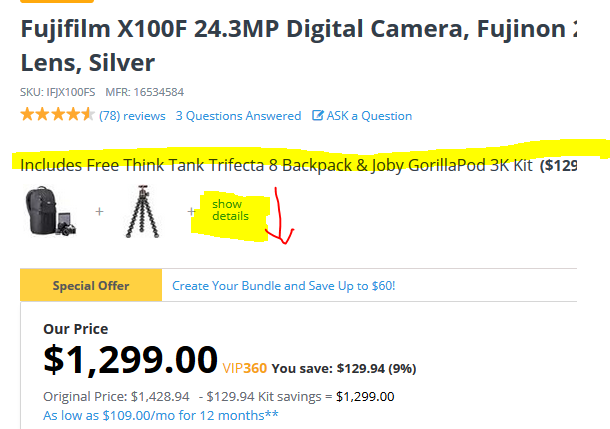 The "show details" will expand the area with the freebies and you'll see more details and click through to get to the individual product pages of the freebies so you can research them further if interested.