If you are planning to get the Canon 5D Mark III, or 6D Mark I, or 7D Mark II, there is a new (stackable with other offers) promotion at B&H Photo that gets you one year of free Adobe Creative Cloud Photography (Photoshop CC and Lightroom CC, not everything in the Creative Cloud), along with one year access to the Kelby One online training courses for Photoshop CC and Lightroom CC.
To locate this offer on eligible cameras, take a deep breath, and locate the tiny "Rebates Available" link on the individual product page. Click on that, and a small box will appear. Click on the PDF link of this offer to see more details. Don't let the PDF scare you – this is NOT a mail-in rebate, but it is redeemed online by registering with Canon, Adobe and Kelby. Here's a screenshot crop of what to look for, using the 7D II body only as our guinea pig: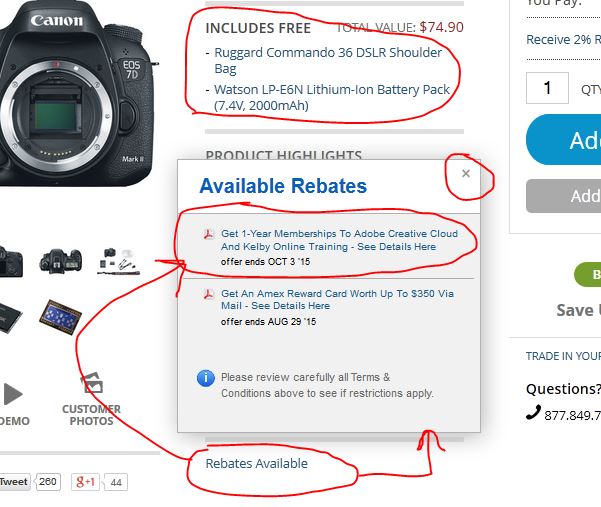 TO REDEEM
To redeem this offer, you go to usa.canon.com/PowerToCreate and register, and receive an email with redemption codes you can use to activate your one year memberships at the Adobe Empire and the Kelby Empire 🙂
This offer is stackable with any other offers available, whether they are free accessories or prepaid Pixma mailin rebate offers or promotional rewards or anything else.