This is YMMV, so you have to check your email associated with your eBay account, or check the eBay Messages on their website/app. They have a new promotion, a coupon that gets you $10 off a purchase of $25+. The coupon code appears to be unique per customer and it is one time use. You will also see it appear on eBay product pages if you are logged on to your eBay account. Judging by the language in the email, this promotion may be targeting ebay users who haven't bought anything recently. Coupon expires 3/29/17.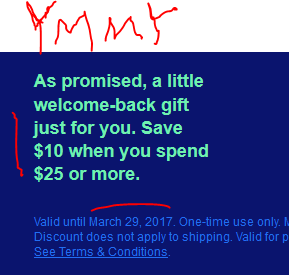 The text above is "quick mouse writing", that's why it looks like finger-painting art 😉
The promotion looks like this on an eBay page if you are logged on to your eBay account AND eligible for the coupon: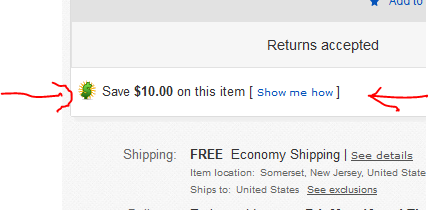 If you are eligible for this promotion, a good place to look for ideas are the eBay Deals along with the Trending Deals (shows only 100 trending deals, less overwhelming to look at than their main deals page). There's also a dedicated search box there that searches only the Deals, not everything else on eBay.