As of 4:13pm ET recheck, this sale is over…
The HTC U11 with its unusual "Squeeze" feature (tempted by the fruit of another phone?) managed to surprise when it took the #1 spot in the DxoMark Mobile charts with a score of 90 (scores in the right sidebar over there) ~ see their detailed analysis.
Not wanting the "Squeeze" to be its only unusual feature, HTC also launched a "Solar Red" color which is rarely seen in flagship phones. Said Solar Red color scheme is on sale, in new condition, unlocked with HTC USA warranty, for $591 at Amazon by Amazon itself.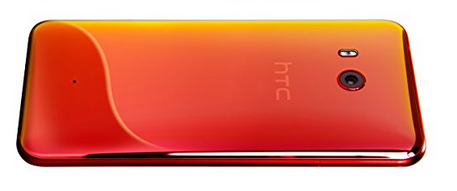 It has a 12mp UltraPixel f1.7 camera with OIS and 1.4 mu pixels, and a 16mp BSI f2 non-UltraPixel front camera. It is rated IP67 in elementproofness, has Gorilla Glass 5, Qualcoom Snapgorgon 835, Android 7.1, 4GB RAM, 64GB on-board storage, microSD card with FlexStorage support, Nano SIM, USB-C, etc.