UPDATE 8/27/15 at 12:03am ET: As of this update, the Fire Phone (32GB, GSM, Unlocked, No Contract) is out of stock and cannot be ordered. I don't know if it will return, they don't have the usual "email me" link… You can use this link to check for updates, but I will also monitor the situation… Previous updates from when it was in-stock after the jump…
UPDATE #2: if you also need a case, they have them bundled with cases for $140 in different colors… The cases go for $10 on their own so you can get them later if you are not 100% on the need for one…
UPDATE 8/26/15: the price dropped from $160 to $130. The limit is now five per customer instead of ten…
If you want to try out Prime or want to extend your existing subscription by another 12 months, and you can find use for a mid-to-high specs unlocked GSM smartphone, the discount is back, you can get the new condition Fire Phone (32GB, GSM, Unlocked, No Contract) for $130 (WAS $160) with free shipping from Amazon itself. This includes ONE year of Amazon Prime. If you don't have Prime, you get free 12 months. If you have Prime, an extra 12 months is added to your existing membership. This is a limit five promotion.
Not only that, but the Prime memberships are STACKABLE. Meaning if you buy three Fire Phones and activate them all on the same Amazon.com account, you will get THREE years of Prime. This is mentioned clearly in the Terms and Conditions of the offer.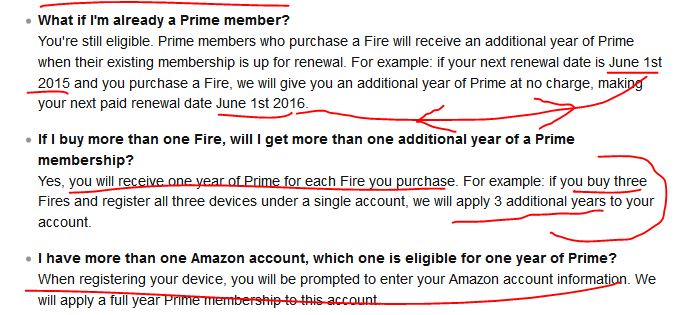 But wait, there's more! If you have a Prime Fresh membership, you are not left out. Your PrimeFresh membership is extended by four months (not twelve months). Prime Fresh is $300/year versus regular Prime which is $100/year. So it is pro-rated.
One way to put these Fire Phones to work (if you don't have any other use for them) is slot-occupiers in this data hungry 4-line with 10GB 4G LTE data per line (with roll-over) for $120 per month total offer from T-Mobile (sign-up by 9/8/15).
PS: speaking of smartphones, the certified pre-owned Samsung Galaxy S5 (microSD slot, removable battery) with one year warranty is down to $350 at Amazon.com by Amazon herself (available in Verizon, T-Mobile, AT&T).