To the eBay Deals we go with a three-item bundle doorbuster that is also coupon eligible. This Toshiba Bags and Computer Accessories bundle goes for $27 with free standard shipping.
This coupon expired: Enter coupon code PCOLUMBUS2017 before 10/10/17 11am ET, and the price drops to $23.68 with free shipping.
The bundle consists of three different sets of things. Option #1 is a laptop backpack or messenger bag. Option #2 (everyone gets all four of these) is a set of accessories (sleeve, card reader, USB hub, laptop lock). Option #3 is a choice among laptop sleeves. You will get your choice from each option. The picture over there changes as you adjust your settings. Zoom in on the pictures to see a close-up of what your bundle will include!
So $24 gets you a laptop backpack/messenger, two sleeves (one you select, the other comes with the Accessories bundle that everyone gets), a USB hub, card reader and laptop lock. Here's a picture of this set with the backpack selected (instead of messenger bag):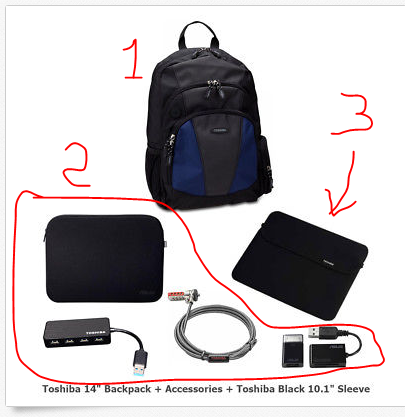 PS: if you have eBay Bucks or any other eBay/PayPal coupons or store-credits or gift cards, don't forget to apply them as well!