This limited time offer expired and sold out and/or both…
*** EXPIRED OFFER ***
*** EXPIRED OFFER ***
*** EXPIRED OFFER ***
UPDATE (11/29/15 PM): the Nikon version now goes for $700 after $120 mail-in rebates at Amazon by Amazon itself. Thanks to one of our readers, EK, for the alert in the comments!
NOTE: if you only see the $70 mail-in rebate, refresh the page and it will show both for a $120 MIR total. This is probably an issue with Amazon's servers sync or caching or something like that. It should look like this (annotated screenshot below):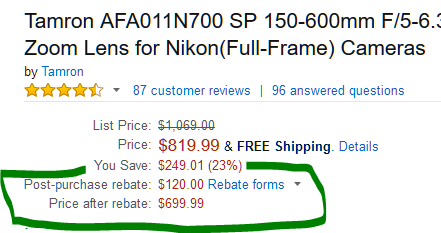 This is no longer available: The action continues at the eBay Deals where Buydig's eBay store is offering the new condition Tamron SP 150-600mm f5-6.3 Di VC USD Zoom Lens (A011) for $820 with free shipping in the Canon and Nikon mounts. Limit five per buyer. There is no mention in the eBay listing of whether this is eligible for the Tamron mail-in rebates. $820 is the price you pay when you checkout from eBay (plus taxes if applicable).