The US version with US warranty, factory unlocked, of the Samsung Galaxy Note 8 flagship smartphone with its dual OIS back cameras, in the Orchid Gray color scheme is now at the all-encompassing "Temporarily out of stock" status at Amazon, sold and shipped by Amazon itself. This is a step in the right direction (over Pre-Order status without a date) but still not a concrete date. But it's getting there!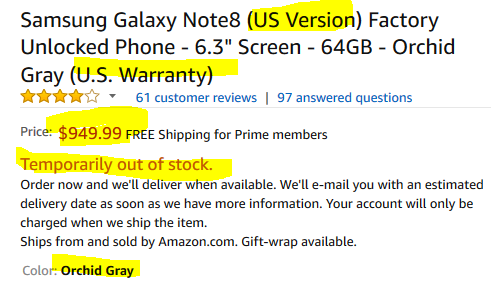 Meanwhile the B&H Photo listings remain in "New Item – Coming Soon" condition. Note that the B&H page has a mix of North American and International variants, so make sure you are looking at the correct model you are interested in.
Speaking of flagships, the Essential Phone is now down to $599 (from $699) in both color schemes, in the new condition factory unlocked with USA warranty model.
BANG FOR THE BUCK ALTERNATIVE
This if you want an uber flagship smartphone. If not, for the same price, you can buy 3-4 units of the Moto G5 Plus with "all carrier" support (the Big Four in the US market) for $240 with Prime Lockscreen Ads or for $300 Factory Unlocked. Note [no pun intended] that the $185/$235 model is with 2GB RAM / 32GB storage, while this $240/$300 model is with 4GB RAM / 64GB storage. The extra RAM is more important, especially if you plan on keeping/using the phone throughout its lifecycle, since apps get more and more bloated as time goes by (even if you don't upgrade to a newer OS version).