This is a YMMV hack. Success depends on the following:
AmazonFresh (the grocery delivery service) must be available in your region
the Camera Gear you want must be available at your local Amazon facility
you have a Prime membership (or 30 day Free Trial) or Prime Fresh membership
ARE YOU FROZEN OUT OF YOUR MIND?
AmazonFresh is Amazon's fresh produce and grocery delivery service. It delivers frozen and refrigerated and room temperature foods. But that's not all. It also delivers a number of items that are available at nearby Amazon warehouses. This includes all kinds of things (books, movies, office supplies, etc), including cameras, lenses and other related accessories.
Because it is geographically limited, only items that are available and in-stock at the Fresh facility can be delivered this way. To find out what's available, use the search bar at fresh.amazon.com. You can login using your regular Amazon account. A quick search found things like a variety of Canon and Nikon and Sigma and Tamron lenses, the Sony a7S, etc. Again, this is YMMV because it depends on what is physically available right now at your local warehouse.
I FOUND the CAMERA GEAR I WANT to BUY – NOW WHAT?
You can order AmazonFresh items two ways:
you have an Amazon Prime membership ($100/year), delivery is $8 flat on orders of $50+
you have an AmazonFresh membership ($300/year), delivery is free on orders $50+
It won't let you place an order under $50, which is not a problem for most cameras and lenses.
Add the items of interest to your shopping cart. You don't even have to have any groceries, but it may be hard to resist the temptation of a new camera or lens without some celebratory Ben and Jerry 🙂
DELIVERY OPTIONS
You have two options for scheduled delivery:
attended delivery – handed to your IN PERSON – you have One Hour Delivery windows YOU select
unattended delivery with 3 hour windows (eg from 7am to 10am) – they will drop it off at your doorstop or per the instructions you leave them. They won't bother you unless requested or required (eg alcohol)
YOU schedule the time and date based on availability. You get a schedule widget that shows the dates and times available. You pick what you like from the open spots. Below you see an annotated screenshot for the Attended Delivery (delivered to you in person). Notice the lovely One Hour Delivery windows. No longer need to take a day off or take a sick day or do any other logistical or sociopolitical maneuvering.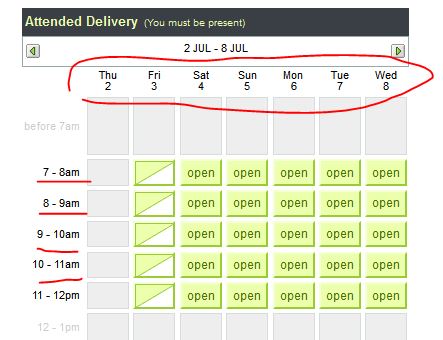 TESTING THIS
Being a poor blogger, I couldn't afford to buy a Sony a7S or a Canon f2.8 zoom lens to test this. So instead I picked a mix of frozen foods, refrigerated foods, room temperature foods and non-foods (such as memory card and phone case and yellow sticky notes).
With unattended delivery, they all arrived, in three bags, which each major temperature-dependent product category getting its own bag. Frozen foods with dry ice in their own outer AmazonFresh bag. Refrigerated foods with dry ice in their own bag. Room temperature foods and non-food items in their own bag. The frozen/refrigerated items come in a recyclable and dissambleable lightweight poly-something box. All items inside the outer bags/boxes have another level of protection, they are inside see-through kitchen bags per temperature category. The packaging material, you can reuse, recycle or leave out for Fresh to pickup on your next delivery (if you do a future delivery and if you remember). There's no fee or deposit for the packaging material.