IF…
you are a Prime member
you pay for them with the Prime credit cards, either the Chase Prime VISA or the Amazon Prime Store Credit Card
…. THEN you will receive 20% back of the purchase price as a statement credit on your credit card instead of the usual 5% statement credit. No coupon is needed, just fulfilled by the above prerequisities. This is an offer you get even if you don't know about it. And if you don't check your credit card statement, you may not even know you got it. And if you don't know it happened, did it really happen? 🙂
Among the eligible products are a dozen Adobe subscription plans (some are "Student and Teacher" so please pay attention to the individual listings) including the 1-Year Creative Cloud Photography plan with 20GB storage for $120. You will receive a $24 statement credit, making it a $96 after statement credit.
All eligible products mention this on their individual product page. If you don't see it, means the promotion expired or something else is wrong: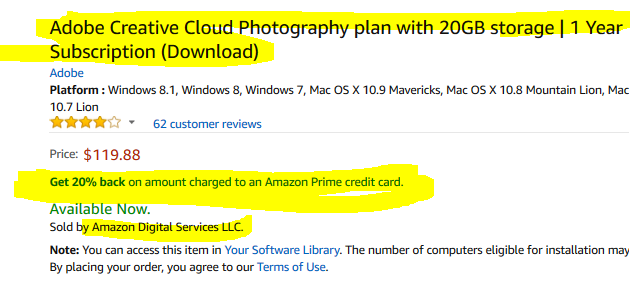 The expiration date is unspecified, so the offer is good as long as you see it mentioned on the product pages.