As of a 4/3/18 AM recheck, the E-M5 II body increased to $899…
Amazon's price bots have gone wild while their human masters are sleeping. They are offering the new condition Olympus E-M5 II body only in the black color scheme for the very specific price of $767.58 with free shipping. This is sold and shipped by Amazon itself, not 3rd-party sellers. The silver color scheme is not on sale. (versus $650 as manufacturer refurbished at the Olympus Outlet store)
Optionally, at Amazon, you can purchase the new condition E-M5 II body together (in the same shopping cart) with select Olympus M43rds lenses and get combined purchase discounts. All participating items must be sold and shipped by Amazon itself, not 3rd party sellers for the combined purchase discounts to work! The links below point to the "sold and shipped by Amazon itself" product pages, to make it easier/faster for you to test the promotion.
+ NOTE: the amounts below are based on the prices of the lenses as of the time of writing! If the actual prices of the lenses change, so will the "for $999 more" amounts below…
+ add Olympus M. 40-150mm F4.0-5.6 R Zoom for $20 more
+ RED DEAL ALERT! WALLET SHIELDS UP! JUST $20 more for this LENS!
+ it currently goes for $100 minus the $80 combined purchase discount = +$20!
+ add Olympus 12-40mm f2.8 PRO for $670 more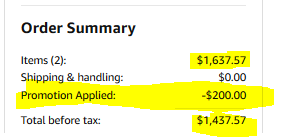 + add Olympus 14-150mm f/4.0-5.6 II for $360 more
+ add Olympus 14-42mm f3.5-5.6 EZ for $150 more
+ add Olympus 25mm f1.8 for $300 more
+ add Olympus FL-900R High-Intensity Flash for $529 more
+ add Olympus M.ZUIKO 40-150mm f/2.8 PRO for $1250 more
+ stingy! just a $50 off combined purchase discount, while the 12-40/2.8 gets a $200 off combined purchase discount
YOU CAN GET ALL SEVEN OF THEM DISCOUNTED
If you want, you can buy all six lenses and the one flash above and get all seven of the combined purchase discounts. Here's the shopping cart with all seven of them in: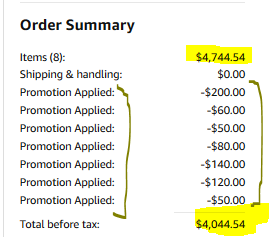 NOT WORKING
+ NOTE: even though the Olympus M.Zuiko Digital ED 30mm f3.5 Macro is shown in the "Special offers and product promotions" section of the E-M5 II product page, adding it to the shopping cart does NOT produce the expected $70 off combined purchase discount