If you are reading this, it means the Camera Deals blog is now using a new Responsive Theme, the official WordPress Twenty Fifteen theme.
In a nutshell, a Responsive Theme tries to make a website more user-friendly whether you are reading on a smartphone or tablet or laptop or desktop. If you want to see the different sizes on a Desktop or Laptop, simply change the window size of your browser, and you will see it live-adjust to the Viewport (= the part of the screen available to display the website).
Previously we had a black menu bar at the top, and a Right Sidebar.
Now they have merged into one, a new Left Sidebar.
If you are on a Desktop or Laptop or a Tablet in Landscape mode, you will most likely see this Left Sidebar. If you are on a smartphone or a tablet in portrait mode, you are more likely to just see the blog-posts with no sidebar. However, you can easily get to it: simply press the Menu button at the top right part of your display (see screenshot right below – screenshot is before pressing the button), and they will expand immediately (no page reload) above the blog-posts.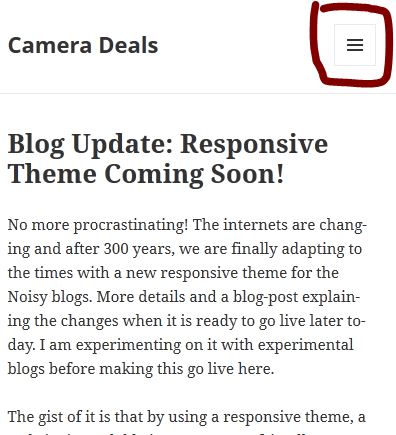 Quickly Get To Items of Potential Interest
The name of the blog "Camera Deals" in the Left Sidebar is also a quick shortcut to the Home page. Simply press/touch that and you'll go there.
With the Menu + Sidebar merged, I did some pruning on the options since there was some overlap. You can filter many of the deals using the first block in the Left Sidebar. Expand the various options to see more options. For example, Manufacturers breaks into Canon, Nikon, Sony, Fuji, Olympus, Pentax, etc, etc, etc. Camera Mounts breaks down to Canon DSLR Gear, Nikon DSLR Gear, M43rds Gear, etc, etc, etc. Camera Types breaks down into DSLRs, Mirrorless, Fixed Lens, Superzooms, Accessories, etc, etc, etc. All these will be fine-tuned over time. See screenshot right below…
Below that, you will find the Latest Posts, followed by a list of Daily Deals Links (I can't always post new daily deals as they change throughout the night, so you can use those links to check at your convenience). Below that you will find a Calendar of posts and the Tag Cloud.
All kinds of adjustments and refinements will be made over time. If this default WP theme does not prove flexible enough, I am also investigating alternative premium WordPress themes. If you have any to recommend, please leave a comment or use the online contact form or Le Twitter.
TIPS
You can use your browser's zoom features, (eg CTRL+ or CTRL- depending on browser/OS) to make it bigger or smaller. This can tame (scale down) the mega-text on desktops for example. [NEW!]
Problems? Questions? Issues? Suggestions?
If you have any problems or questions or issues or suggestions, please feel free to leave a comment or use the online contact form or Twitter. Please try to be as descriptive as possible. For example, "does not work on my device" cannot help me troubleshoot it. On the other hand if you say, "it's a mess on a Lumia Windows Phone with a 800 x 480 display" it narrows it down to the point where I could troubleshoot.