A few days after adding free Audible content to Prime memberships, Amazon is back with a new feature for Prime members, Prime Reading. This feature has two components:
you can read over 1000 e-books for FREE. You do not own the books, but you can read them for free and take as long as you like to finish them
monthly selection of Magazine Issues you can borrow and read for FREE, the current selection includes the latest issues from Shutterbug and Consumer Reports, N-Geo Traveler, Pop Mechanics, among others
This is essentially a "Kindle Unlimited Lite" membership, it contains a subset of the ebooks available through that for-pay membership.
You can read as many of them as you like but there is a checkout limit of ten at a time. This of this as your local library, you can only have ten items out at any time, but you can return them and borrow new ones as many times as you like. The magazines count towards the ten item limit.
The magazine selections will change monthly, so there's no guarantee the same magazine will be available next month. Magazines can only be read using the iOS and Android Kindle apps. You cannot read them with the Cloud Reader, nor the Windows Kindle app, nor using e-readers. eBooks can be read with all options including Cloud Reader and e-readers.
Of the 1000+ books, only one is photography-related (as far as my searches can tell), "How to Archive Family Photos: A Step-by-Step Guide to Organize and Share Your Photos Digitally" by Denise May Levenick.
As usual with the Netflix-style membership, you don't get to keep any of them, but you can keep reading them as long as you are a paying member.
UPDATE: indeed this is single issues, which you can download to your Kindle app for later reading (eg if without internet connection). Here's a screenshot of the app with Shutterbug, the October 2016 issue: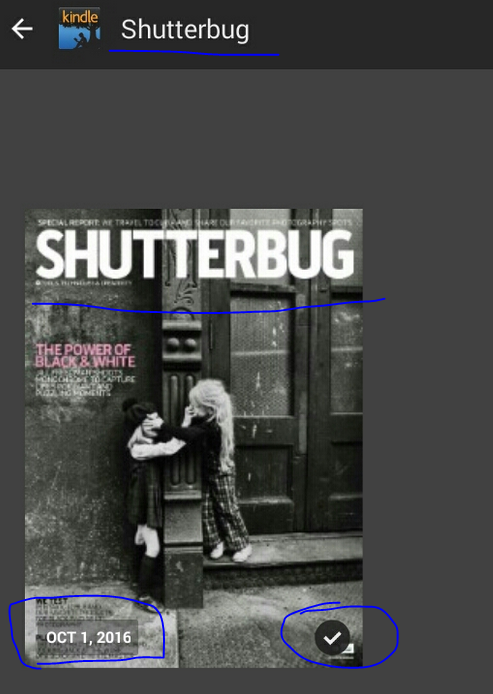 Co-Promotion: KINDLE E-BOOK READERS Get DISCOUNTED
To celebrate (okay, sale-a-brate) this new Prime benefit, Amazon is also discounting some of their Kindle e-book readers for Prime members (so they can read all these 1000+ e-books) as follows:
+ Kindle Voyage e-reader for $150
+ Kindle Paperwhite e-reader for $90
+ Entry-Level Kindle e-reader for $50
+ for all the Kindles, you see the discount after you add it to the shopping cart and proceed to the Checkout page