As of a Friday 8:42pm ET re-check, this lens is sold-out, gone, and can no longer be ordered. It is not coming back. Monoprice is clearing out their Tamron inventory… The rest remaining Tamron lenses continue in the Camera and Photo Clearance sale…
Craziness in the Camera and Photo Clearance sale, the the new condition Tamron SP AF 17-50mm f2.8 VC Di II in the Nikon mount is on sale for $260 with free standard US shipping.
But wait, there's more! Use Friday-only coupon HELLO20 and the price of the lens drops to $208~ in the shopping cart. See screenshot crop below: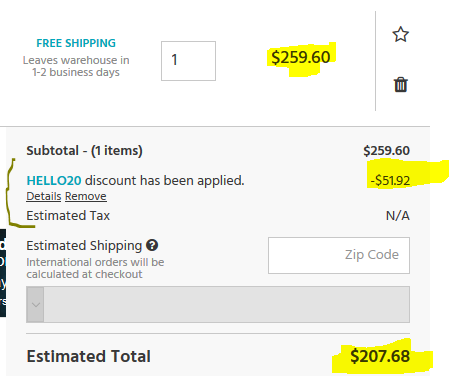 Enter zipcode in the shopping cart to see shipping options if you want to receive it faster than "standard".
The price is good enough to tempt one to get a Nikon DSLR just to use it 🙂