Red flag alert! There's a problem with the way Amazon calculates prices for Canon digital cameras that are eligible for the Canon Pixma combined purchase mail-in rebates. The after rebate prices are incorrectly shown on camera-only kits. These won't fly since the Canon mail-in rebates specifically require a camera + printer purchase.
Here's an example of a broken price box, using the Canon G5X as our guinea pig: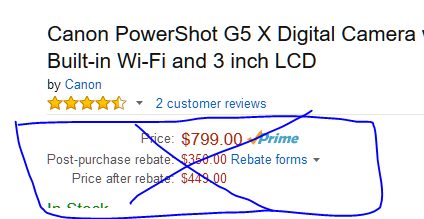 When you click on the rebate link, it will take you to the usual Canon Pixma combined-purchase rebates. See the PDF form.