If you like to shop at Amazon, but don't want to sign up for a Prime membership [list of benefits], and don't want to place $35+ orders, we have some good news for you. It looks like Amazon has lowered the free shipping threshold from $35 to $25. While price-checking some of the Bag The Bags, this came up, the minimum shown is $25 instead of $35. This showed up when not logged on to an Amazon account, and also if logged on to a non-Prime account.
If you want practice/test this, here's a sub-$25 item, screenshot of which can be seen below: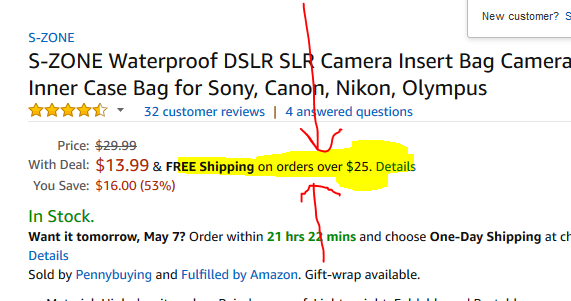 I don't know if this is a limited time or limited scope experiment (Amazon LOVES to experiment) or this is permanent. (permanent until they change it again that is).
In the previous iterations, books got free shipping with $25+ orders, presumably price-matching the long-standing Barnes & Noble offer. If this sticks, it means books and non-books get free shipping on $25+ orders.