It is Day #3! Running this week, October 9-13 (Monday through Friday) in 2017, Creative LIVE is having their Photo Week 2017. There are five days of FREE live-streaming classes, with TWO parallel channels running per day (think of it as ESPN and ESPN2). There is a variety of content planned: 40 classes, five keynotes, and five photo critiques.
Instructors include Lidnsay Adler, Joe McNally, among a total of twenty photographers. You can find a detailed list of the classes and the schedule under the various sub-tabs at the Photo Week page.
During the five day Photo Week (October 9-13, 2017) you can watch the live streaming classes for FREE. If you want to watch them at any point after the promotion ends, you can purchase the whole bundle of 40 classes for $200 total as a special promotion running during Photo Week 2017. That's $5 per class. If you are only interested in one or two of those classes, you can instead buy them individually.
This is a screenshot of the schedule for Wednesday, the times below are Pacific time: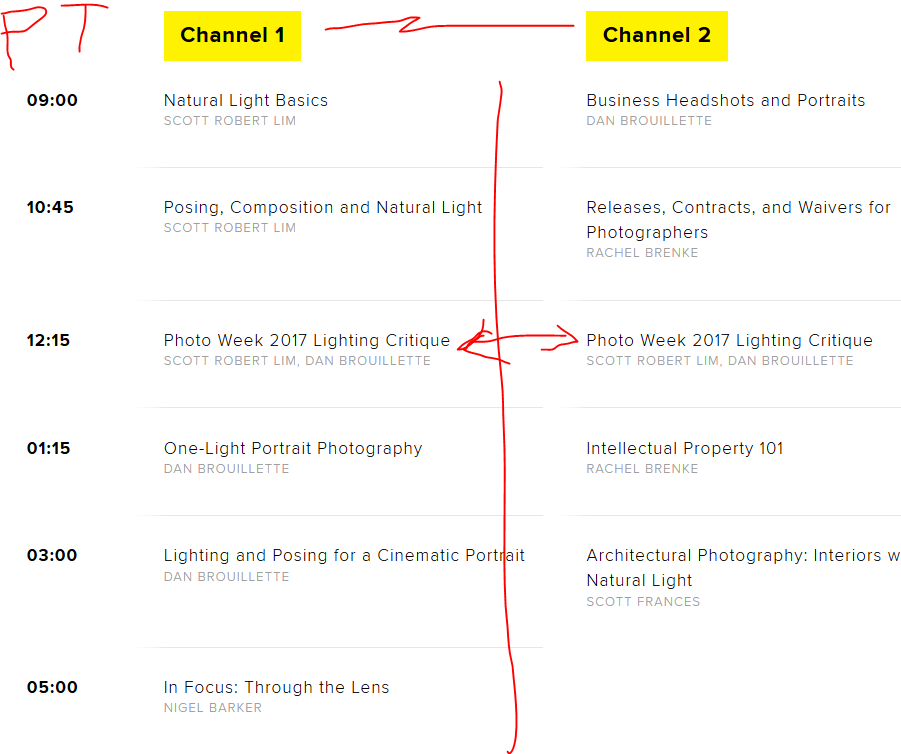 The Photo Critiques are the same for both channels – they happen around lunch time in the Pacific time zone. The rest of the classes are different per channel.