In a rare Amazon Gold Box teaser that shows the actual sale price before it goes live, it reveals that starting at 3am ET on Thursday, the 128GB Samsung 80MB/s EVO Select Micro SDXC Memory Card (model MB-ME128DA/AM) will be on sale for $24.88 instead of its current price of $40. Free shipping for Prime members or with a $49+ order. I do not know how long it will last after it goes live. Timezone in the teaser below is pacific time: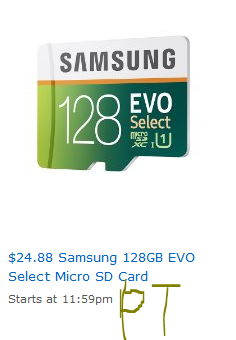 UPDATE: Speaking of microSDXC cards, the 64GB Sandisk Ultra microSDXC UHS-I Card with Adapter, Grey/Red, Standard Packaging (SDSQUNC-064G-GN6MA) is on sale for $15 at Amazon by Amazon itself with a limit of one per customer.
Speaking of Samsung, their 64GB SanDisk Ultra Fit USB 3.0 Flash Drive (SDCZ43-064G-GAM46) is on sale for $13, while the 32GB goes for $8. The usual Amazon free shipping terms apply (Prime or $49+). These are the tiny flash drives, great for laptops or PCs or media players and streaming boxes.