The first wave of the new products Apple revealed at their 9/12/17 presentation at the new UFO building are now available for pre-ordering. The iPhone X is not part of this round, pre-orders will open later in the year.
APPLE TV 4K
We start with the 4K Apple TV which is a simple "add to cart" purchase without complications. There is a 32GB model for $179 and a 64GB for $199 with pre-orders available at B&H Photo and Adorama and MacMall
APPLE WATCH SERIES 3
+ Apple Watch Series 3 for $359 (four options)
+ Apple Watch Series 3 with CELLULAR for $429 (seven options) unlocked at B&H Photo OR for $400 at Verizon Wireless (requirements)
+ more expensive options also available – check all 34 options
IPHONE 8 and 8 PLUS PROMOTIONS
Be sure to read all the terms and conditions for the carrier promotions, as each carrier has their own terminology and fineprint!
At Sprint, their Best Trade-IN offer is 50% off the price of an iPhone 8 or 8 PLUS with a string of prerequisites including Sprint FLEX, and eligible trade-in, with new line or qualifying upgrade, etc, etc. Check all the details there.
At AT&T Wireless they offer a 30-month 0% APR installment plan on approved credit with their own set of prerequisites.
At T-Mobile, everyone gets a giant splash of magenta for FREE 😉 They too have a trade in promotion with up to $300 in 24 bill credits with eligible trade-in and their own prerequisites. They actually created a readable FAQ on the Trade-In offer, which all carriers should be required to provide instead of hiding all the terms in tiny online fineprint and anachronistic terminology 🙂 [T-Mobile does this too, not just the other three, but in this case, the FAQ is a nice touch]
Verizon Wireless has a trade-in promotion for the iPhone 8 and also the iPhone 8 PLUS that gets you $100 or $200 or $300 depending on which phone you are trading in. Only specific models are eligible for the trade-in bonus: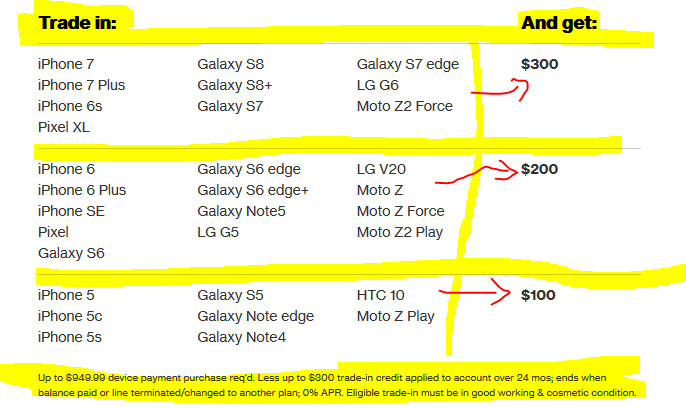 MACBOOK SPECIALS
These were not announced this week, but since we have an Apple-centric post, this is a good place to post them…
+ Apple MacBook, iMac, Mini, iPad sales at B&H Photo
+ Sales and Price-Checks on the latest models at MacMall
+ Adorama Apple Sale as well with 21 participating products