If you are a T-Mobile customer, rejoice! They finally have some photography-themed freebies for their July 18 (2017) "T-Mobile Tuesdays" freebies. Anyone who is a paying T-Mobile customer qualifies for these offers, and better yet, you get one set of freebies per line, not per customer or main account holder.
If you are not familiar, you can get the freebies at the T-Mobile Tuesdays website or by downloading their Tuesdays app (this is a separate app, not the regular T-Mobile app). Prepare for your screen to be taken over by magenta overload 🙂 You login using your T-Mobile account number and password. If you have multiple accounts, login with each phone number if you want to claim more than one set of freebies.
For Tuesday July 18, 2017, the two photographer freebies are:
free digital prints with free shipping from the Freeprints service: ten 4×6″ and two 5×7″
free e-book version of National Geographic's National Parks. This comes from the BookShout service, not the popular ebook reading services. You can read it on the web or using the Bookshout app. No DRM-free downloads as far as I know
Also, some of the prizes to be won (if you play the "games" on their app or website include National Geographic prizes.
Screenshots of the freebies after the jump…
First, the ebook freebie, along with the promo for a chance to win the $25 e-gift card. Everyone gets the free ebook, but the $25 promo code will only go to the winners of the app/website games.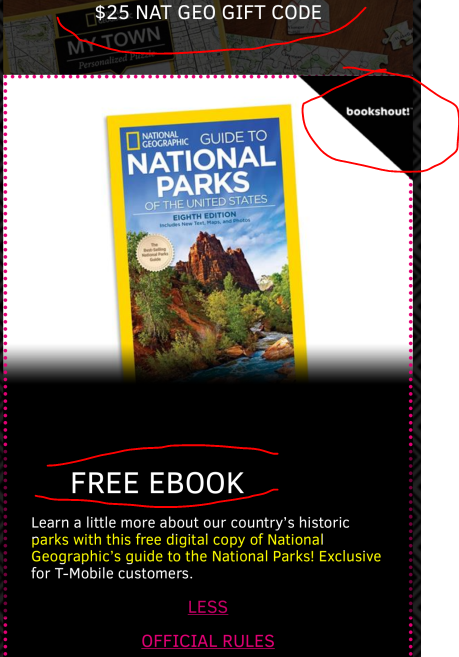 Next up, the free photo prints using the Freeprints app: