If you like fisheye drones, the Parrot Bebop Drone 2 (Wifi) with its 14mp fisheye camera is on a special promotion at the Dell Home. You pay $500 which is the price at other retailers as well, but when you add it to the shopping cart, a $100 promotional Dell eGift Card magically appears in the shopping cart. The promo eGift Card will be emailed to you 10-20 days from ship date and expires in 90 days after that. Sort by highest price to quickly locate the two $499 models. Only the $499 models are eligible for the eGift Card promo. The offer expires 6/13/2016 6:59am.
If you are not familiar with the Dell shopping cart, this is how it looks after you add the $499 Parrot to it (annotated screenshot below):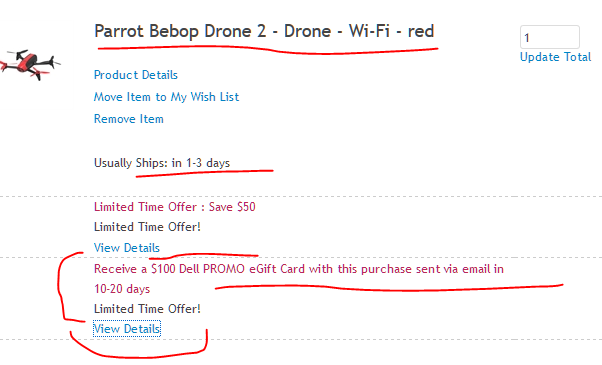 A parallel promotion with the same expiration is running on the Parrot Bebop Drone 2 w skycontroller which goes for $700, along with the $100 promo eGift Card as above.