Just in time for the holidays, NewEgg is offering a new delivery option for your order, regardless of the shipping delivery speed you select. You can pick up your order at a local participating FedEx Kinko's facility. In the "Review" stage of the Checkout process, you can select a FedEx location to receive your order. Look for something like this in that page, below your "Shipping Info" column: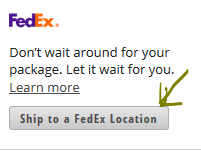 There is no additional fee for this delivery option. Your shipping fee is whatever your default delivery fee is, which a lot of times it is free or close to free.
Another benefit of this is that if you live or work or travel to multiple locations on a regular basis, you can send your orders at where you are, instead of having them all go to your home address (assuming the delivery estimates work and such).