Coupons for groceries are common. Coupons for lenses, not so much. But they do exist. Right now. At Amazon, there is a clip-on coupon (no code to enter, just click to clip the coupon to your Amazon account), that gets you $25 off the current price of the Rokinon 8mm f2.5 Fisheye lens. Amazon itself must needs be the seller for the coupon to work. After the coupon is factored in, it makes the Canon EF drop to $175, the Nikon F drop to $204, the Pentax K drops to $244, and the Sony Alpha drops to $254. Coupon expires 7/11/17 PM.
If you are not familiar with these, here's a screenshot of what to look out for: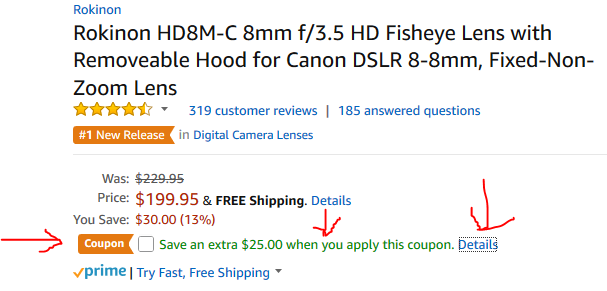 UPDATE: the non-HD Canon version has its own 20% off clip-on coupon, bringing the price of the Rokinon FE8M-C 8mm F3.5 Fisheye from $200 down to $160. Coupon expires 7/11/17.