Smartphones have created some interesting new bedfellows, Leica and Huaweiiii, Lenovorola and Hasselblad… Which brings us to the Hasselblad True Zoom Camera for Moto Z, it is now in-stock and ready to ship at its starting price of $250 at Amazon by Amazon itself. This only fits the Moto Z phone.
Optionally, if you buy this in the same shopping cart with the Unlocked 64GB Moto Z USA warranty phone, you get a $200 combined purchase discount. The discount appears in the shopping cart if you add both of them there, both sold and shipped by Amazon itself. So it is $250 + $700 – $200 = $750. Here's a screenshot crop of the top right corner of the Amazon checkout page where the discount is factored in: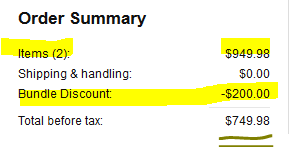 PS: I do not know when this promotion ends.