Just in the …nick of time, Santa can deliver the new 7″ Kindle Oasis e-reader. It is back in-stock and ready to ship at Amazon for $250 with free shipping. Limit two per customer!
You can customize it in the shopping cart, the options include:
+$30 for the 32GB version
+$50 for the cellular option
+$20 without Special Offers (you can remove these later)
Depending on which option you select, and where you are, and where the Oasis inventory is at, these may get delivered before Christmas. Their shopping cart and the individual product page will tell you specifically! This for example is the product page for the entry-point model for $250 (Wifi only, 8GB storage, Special Offers).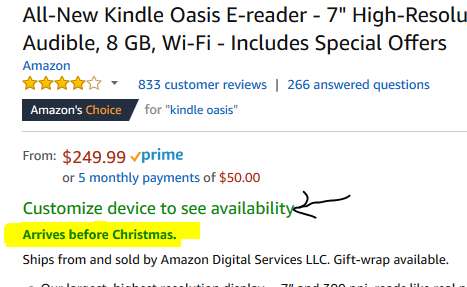 This is the largest Kindle e-reader screen size since the good old 9.7″ Kindle DX with a built-in keyboard (and no touchscreen). It has a 300ppi screen, IPX8 waterproofness (up to 60 minutes on up to 2 meters of water), physical page turn buttons, can play audiobook but only over bluetooth (no speakers or headphone port), 8GB storage (no microSD), etc.
The 7-inch diagonal screen gives you a lot more reading space than the previous generation 6-inch Oasis. Look at the picture at the bottom of this customer review.