If you are interested in the National Parks or Nature photography, the hardcover edition of the April 19 (2016) "National Parks of America: Experience America's 59 National Parks (Lonely Planet)" is on sale for $15.80 at Amazon by Amazon itself with a limit of 30 per customer. The sale is such that the used prices are higher than the new condition. If you are not a Prime member, you get free shipping if you buy $25+ in books (eg two of these) or with a $49+ order.
If you are a Prime member and you are not familiar with this book, but you are curious, you can borrow it for FREE through the Prime Reading program! Go to the Kindle page and look for the "Read for Free" with Prime Reading button. You have to be logged on to a Prime account to see this. Screenshot below: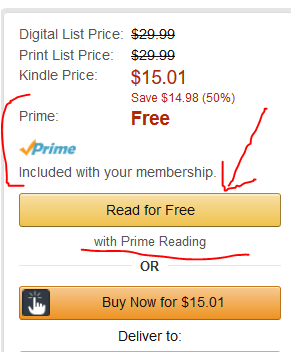 But wait there's another way to borrow it for free, if you are a Kindle Unlimited subscriber!
MINI RANT: Amazon really really really needs to change how they phrase it when you borrow an ebook. It is not free. You are borrowing it. This will probably reduce accidental purchases and returns, and reduce user frustration. The "Read for Free" is good but the "Free" above that when it shows the price is confusing to the uninitiated.