Among the latest Staples coupons (page down to locate it, see screenshot crop below), you can receive a $25 prepaid VISA Gift Card when you buy a Wacom Intuos Graphics tablet with a regular price of $100 or more. The eligible tablets mention this promotion on their individual listings. Offer ends 11/14/15.
Long post, more after the break…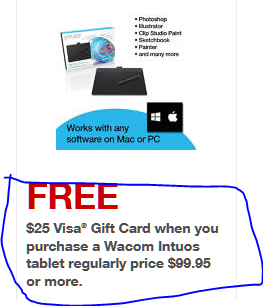 The first three Wacoms shown in this page are eligible. See annotated screenshot crop right below…

You have to manually add both the Wacom and the $25 Gift Card (search for Staples product code 414602 to locate it) to the shopping cart, then proceed to checkout and enter coupon code 67285 over there to make the gift card free. This is not a rebate. You receive the gift card in the same transaction.