UPDATE: The Canon mail-in rebates continue until 11/22/14… NOTE: this promotion expires at the end of day (Eastern Time) Saturday October 25 in 2014 but don't wait until the last minute!
This is an intermediate level deal, so please pay attention to the details of the promotion. It is a bundle and a mail-in rebate promotion! You start at this Canon D-Rebel T5 promotional page. Then manually add the items to your shopping cart (see the purple arrow below):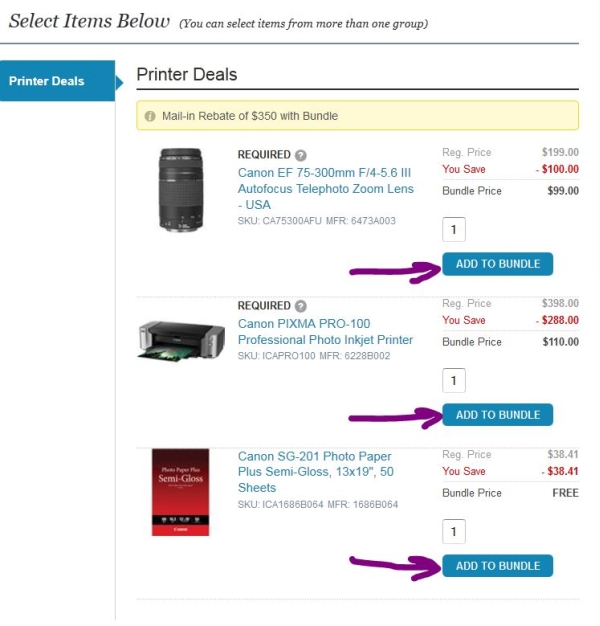 When you do, you will notice the price totals on the right side of the screen will automatically change, and with all three items added, you will have a total of $708: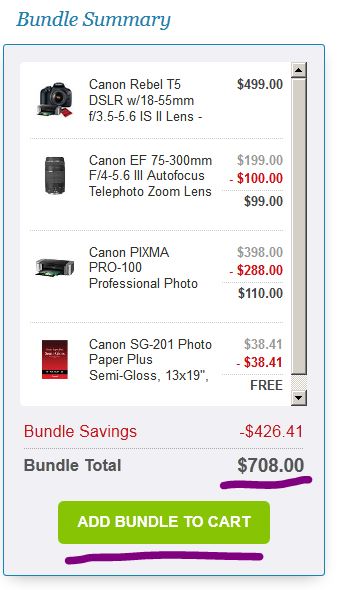 After your order ships and all the items are performing to your expectations, you can submit the mail-in rebate, paying attention to deadlines and things that need to be included. A few weeks after you submit the mail-in rebate, you will receive a $350 American Express prepaid gift card.
As you can see in the pictures above, this offer includes the Canon D-Rebel T5 with 18-55, plus the 75-300 f4-5.6 III lens, the Pixma Pro 100 printer, and a 50pk of 13×19 inch Canon photo paper.