If you are looking to buy one of these 185 cameras from Amazon, Amazon has a two step promotion that takes $50 off their current prices! It is a two step process, but it's fairly simple and fast. I just did it before writing this blog-post.
STEP #0: Eligible cameras are mostly DSLRs but there are also some non-DSLRs. Filter by manufacturer on the left side of the promotion page or use this navigation page as your jumping point. Among the eligible cameras:
Nikon D4S, Df, D810, D800E, D750, D610, D7100, D7000, D5300, D5200, D3200, (42 options total)
Canon 1D X, 5D Mk III, 6D, 7D II, 70D, 60D, T5i, T5, SL1 (39 options)
Pentax 645Z, K-5 IIs/II, K-5, K50, K30, K-S1 (33 options)
Sony cameras A99, A77 II, A58 (10 options)
Panasonic GH4 and GH3
Sigma SD1 and SD15
Leica RFs and one MF
STEP #1: Buy an Amazon Camera Electronic Gift Card of $0.50 or more (that's right 50 cents or more). This is an email gift card, not a plastic gift card. You must buy the "Amazon Camera" gift card design. It is the only one eligible for this promotion. You must do this by 12/23/14. You can send the email gift card to your own email address or to someone else. Limit one discount per customer. You are not obligated to buy a camera later, so you have nothing to lose, it's like having a future option to exercise at a later date if needed.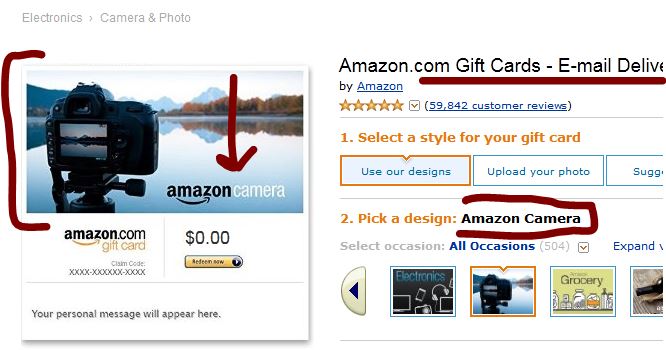 When you reach the Checkout page, the shopping cart notifies you that the Gift Card you are about to purchase qualifies you for this promotion. An annotated screenshot crop below is showing this (the part about Amazon Points is unrelated to this promotion, it's when one has a credit card with rewards points linked to their Amazon account)

STEP #2: Check your email. Unless the Amazon servers are under heavy load, you will receive your email gift card by email within a couple of minutes. A few seconds after you receive your email gift card, you will also receive another email from Amazon, entitled "Your Amazon.com Promotional Credit for Cameras". This email notifies you that a promotional credit of $50 has been applied to your Amazon.com account. There is no coupon code to enter. This happens automatically. This $50 promotional credit must be used by 2/7/15 otherwise it will expire.
STEP #3: Pick a camera of potential interest from the 185 eligible camera kits. To test this promotion, simply add one of these cameras to your shopping cart, proceed to the Amazon Checkout page, and look at the top right corner of the Amazon Checkout page. If a camera is eligible, you will see a $50 discount. Annotated screenshot crop example right below…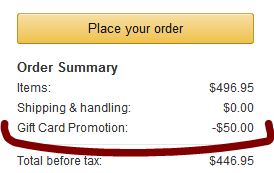 If you are interested in a camera not shown in the list, you can always try it out and see whether the discount shows in the shopping cart (I can't test every camera out there).
If not used, the promotion will remain in your account until 2/7/15, at which point, it will expire.