I keep preaching about the importance of backups, yet I can't even recall the last time I did a full proper backup of everything that needs backing up 🙂 With prices continuing to drop, $50 or less is a reasonable price to set for 1TB external hard drives unless you want more advanced features. One such model with more advanced features, optional 256-bit AES hardware encryption, is the 1TB WD My Passport Ultra USB 3.0 Secure Portable Hard Drive which is currently on sale for $59 with free shipping at B&H Photo (expires 2/13/16). But that's not all. This qualifies for volume discounts. If you buy more than three units, the price drops to $54 per HDD. If you buy 10+ units the price drops to $52 per HDD. The volume discount is only on the black color scheme. The other three colors also go for $59 but they don't have a volume discount promotion.
This is the first time I recall seeing a Volume Discount at B&H. Here's an annotated screenshot crop of the above product page to help you locate it if you are not familiar with it: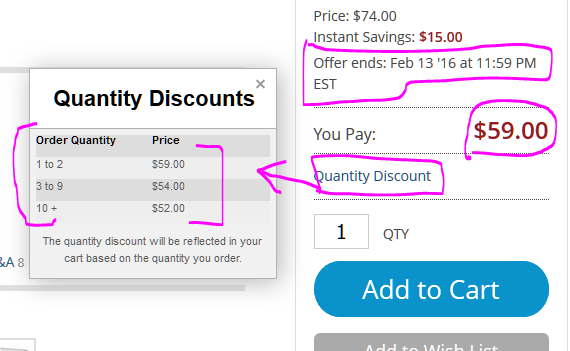 If you need more, or want to color-code your backups by type (personal, work, landscape, clients, etc), or have gift cards from the holiday season, they are also on sale for $59 each in five colors, with a limit of five per color per customer at Amazon by Amazon itself. No volume discounts at Amazon because rockets are expensive 🙂
Back to B&H Photo, they have two offers on 128GB microSDXC memory cards (with full SD adapters). The 128GB PNY UHS-I U1 C10 (P-SDUX128U160G-GE) goes for $35, while the 128GB Sony UHS-I U1 C10 (SRG1UY2A/TQ) goes for $40. Free shipping if your order total is $49+. You can buy multiple units of each card. Both are limited time offers.