We are hitting two ecosystems with one blog stone 🙂 Good until Saturday night 4/15/17, at Rite Aid brick and mortar stores [check their Weekly Ad to verify your local stores are participating], by using the Plenti Rewards program (managed by American Express and free and easy to join in-store or online), you can get 20% back in Plenti points on the purchase of $30 Google Play or $30 iTunes Gift Cards. You earn the $6 spending equivalent (600 Plenti Points) to use in the future (as early as next day after purchase) at participating Plenti retailers (Rite Aid, Exxon-Mobil, Macy's, etc). If you shop at any of these retailers regularly, this is as good as cash. I've done these a few times, they work like clockwork. Limit two per customer for this particular offer.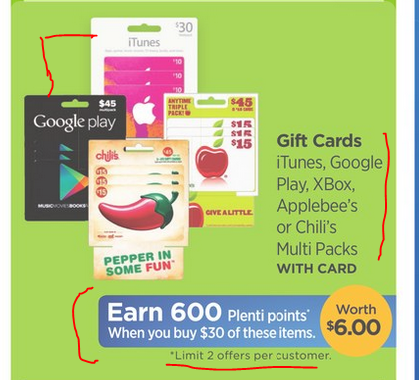 Of camera and photo interest is the purchase of photography and camera guide e-books (tablets and PCs are better suited than e-book readers and phones when reading e-books with diagrams, tables, and of course color pictures), along with the purchase of camera and photography apps, and the occasional photography-related movie or TV show.
Speaking of which, another similar deal is running at Rite Aid B&M for the same time period. Buy a $50 Netflix Gift card, and get 800 Plenti points back. That's a 16% off virtual discount, assuming you have no problem spending the 800 Plenti points at participating retailers. Limit two per customer on this offer. You can load this card to your own Netflix account (you don't have to gift it to someone else). These work like clockwork too, and it only takes about 60 seconds to scratch the code, logon to the Netflix website, and type in the goofy jumble of letters and numbers that is the gift card code. Netflix can sometimes take a couple of minutes to "digest" the gift card, so don't panic if your balance does not refresh instantaneously [this word is a pain to type correctly!]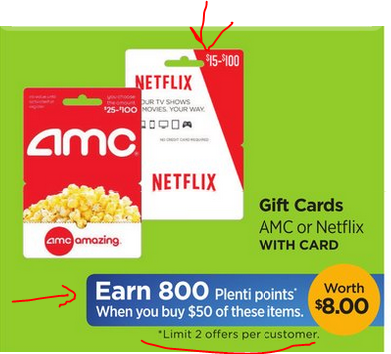 Of camera and photo interest, well, there are very few photo-related movies and docs on Netflix, but you can put the savings towards the purchase of your next camera and photo item 🙂 A 16% virtual discount on a $10 monthly plan would make it a virtual $8.40 per month. Assuming you can use the Plenti points on your everyday purchases.
I have done the above offers multiple times, they work like clockwork, and they are frictionless. All you have to do is show your Plenti rewards card when making the purchase at Rite Aid, or type in your phone number correctly. You pay full price at the cash register. You get the promotion in bonus points. You get instant verification on the bonus points on the cash register receipt, it shows the amount earned. The bonus points can be spend the next morning (after your purchase). You cannot roll the points (you cannot use them on gift cards anyway), so you must pay with "new money" (credit card, cash, debit card, check, gold bullion bars, live chickens, and all the other acceptable payment methods).