This lightning deal ended within 30 minutes of going live…
This is like the NBA Draft. We have a new trade to announce! I mean, we have a new upcoming lightning deal! Starting at 8:44pm ET, according to the now short-term Gold Box lightning deals schedule, there will be a sale on the new condition Samyang 24mm f/3.5 Tilt Shift Lens. The gold box link points to the Canon mount, but the product page also has the Nikon and Sony Alpha. I don't know if all three or only the Canon version will be on sale.
As of the time of writing, the prices are $800 for the Canon, $700 for the Nikon, while Amazon itself does not have the Sony Alpha, so its chances of being a lightning deal are zero (unless the seller of the lightning deal is the one 3rd-party seller offering it).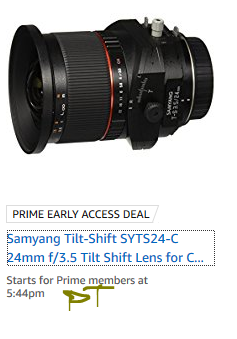 To make it easier for you to keep track of the Lightning Deals in this "new era", I am stringing them all together using the Gold Box blog tag.