This 48 hour promotion ended… Everyone now pays $39 for pre-ordering the Amazon Fire TV stick…
It looks like Amazon is continuing to experiment with more offering Prime members more discounts. Today they just launched a brand new Chromecast competitor. The Fire TV Stick. The starting price for this is $39, but Prime members, for a limited time only, can buy it for $19. The $19 offer expires by 9am ET on Wednesday October 29 2014. This is still a preorder – this will ship in 2015 for new buyers (around November 19 for the early waves of preorders). Limit two per customer (or one if supplies start running out).
There is no coupon code to enter. The price shown is $39 for everyone. If you are a Prime member and logged on to your account, after you add it to the shopping cart, and Proceed to Checkout, the price at the top right corner of the Amazon Checkout page automatically factors in the discount. See annotated screenshot crop below…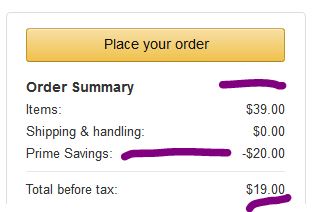 Of photography interest, this creature supports Vimeo, Smugmug, Allcast, Plex and I'm sure more will get added. This has smartphone type hardware, a dual-core processor, 1GB RAM, 8GB on-board storage, dedicated VideoCore4 GPU, dual band/antenna Wifi, Bluetooth 3.0, etc.
The bundle includes a remote control, an HDMI extender cable, two AAA batteries, USB cable and power adapter.