This coupon offer expired…
UPDATE: Coupon SAVE10 gets you 10% off on 5/12/15.
ORIGINAL:
For a limited time, coupon code VIPACCESS gets you 10% to 15% off the Polaroid 600 Camera (bundled with one Color Film Pack (eight exposures)). The price before coupon is $130 with free shipping at Stacksocial with a limit of three bundles per customer. The coupon is 15% off on Wednesday and 10% off on Thursday making it a $110~ to $117~ depending on when you order it.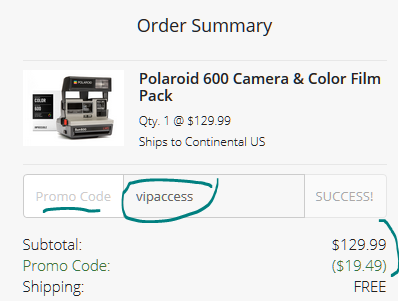 PS: the coupon works on many other items at Stacksocial. I can't price-check/post everything, but you can search/peruse their website or look for ideas in our previous Stacksocial posts.