UPDATE 8/28/16: the fine print of this offer (both online [view larger screenshot] and in the printed weekly ad) says the Rewards will be sent separately, so you will get the full amount (sales tax NOT included as usual with rebates)… Also, the offer is good in-store or online according to the Office Depot Rewards page.

Keep in mind, you can't roll rewards any more, so you have to pay with "fresh money", not with existing Office Depot Rewards! The good news though is that they have began sending out the rewards faster than they used to.
ORIGINAL POST
Duracell party reloaded! Between Sunday 8/28/16 AM and Saturday 9/3/16 PM, the Office Depot and Max stores are bringing back their 1c after Rewards promotion on the Duracell single-use alkaline battery 16-packs. The promotion includes AA or AAA 16-packs. You have to buy the specific SKUs that participate in the promotion.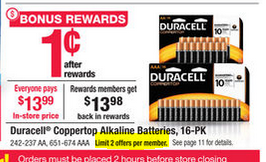 You pay $13.99 plus tax (if applicable). You must show your Rewards number (or use your phone number to look it up). A few weeks later you will receive $13.98 in Office Depot rewards in your online account. You can use those for future purchases there but you can't "roll" them. Limit two per customer during this week, your choice of any combination of AA or AAA 16-packs.
The one question is whether these will arrive separately or will be part of the regular rewards. You want them to arrive separately, otherwise you won't get the full amount. This is usually mentioned in the Weekly Ad fineprint and on their Rewards website after they go live on Sunday 8/28/16. You won't get the full amount because for their regular rewards, you only get rewards in multiples of $10. This is a very sneaky way of not paying you the rewards you earned AND getting away with it (until bored Attorney Generals go after them).