The Sony a3000 with 18-55mm is currently on sale for $300 with free shipping at Amazon by Amazon herself with a limit of two per shopping cart during this sale…
Optionally, it is part of the Combined Purchase Discounts. The a3000 is only eligible for one lens, the 55-210 and the $200 off combined purchase discount happens automatically when you add both the a3000 kit and the 55-210 to your shopping cart. Here's an annotated screenshot crop of the top right corner of the Amazon checkout page with the a3000 w/18-55 and the 55-210 added to the shopping cart: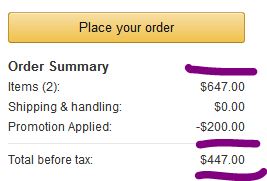 Note: the other E-mount cameras participating in this promotion (NEX-5T, a5000, a5100, a6000) get smaller discounts on the 55-210 and require promo codes.