The Weekly Ad for the Office Depot (including Office Max) stores for the week of Sunday 3/6/16 until the end of day on Saturday 3/12/16 includes a "Buy 2 Get 1 FREE" promotion on all Duracell batteries available in-store. This includes single-use batteries, rechargeable batteries, and charger kits. Here's the screenshot from their Weekly Ad: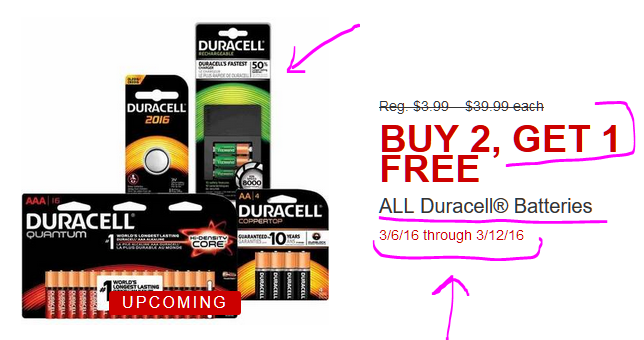 I don't know if the sale will also be live on their website, but if it is, the promotion should appear at some point on Sunday on Duracell Product listings.
As usual, price check any items of interest, as the B2G1 price may still not "defeat" sale prices at other retailers or other times. This is a straight up sale, no coupons, no rebates, no rewards. You just pay the sale price and you are done!