If you are looking for a new computer monitor and planning (or not objecting) to make additional future purchases at Dell Home, they have a nice deal on their 27-inch Dell UltraSharp U2715H monitor. You pay $550, and for that you receive the computer monitor and 10-20 days later, you receive via e-mail a $200 promotional Dell Gift Card.
When you add the monitor to the shopping cart, the $200 promo gift card will be added automatically by the Dell website (annotated screenshot below).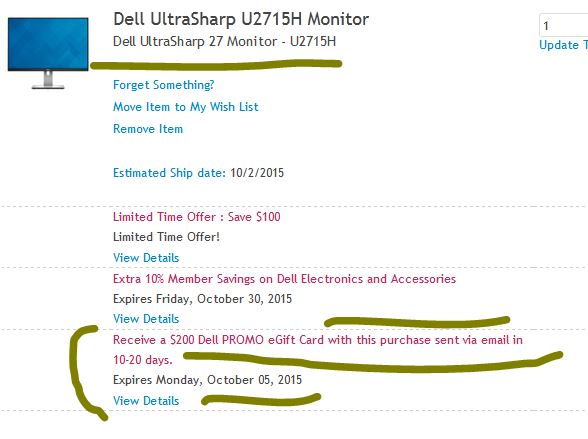 The promotional gift card expires 90 days after it is sent (unless your State prohibits this practice, in which case, it will last longer). So strategically, it is a good idea to plan both this and the next purchase to spend the $200 promo gift card.
Main monitor specs: 2560 x 1440 @ 60 Hz, IPS, Anti-Glare, 2 HDMI, DisplayPorts, no VGA, no DVI, USB ports (five down, one up), 178-degree viewing angles, 3yr warranty, etc. Averages 4.3/5 with 10 reviews at Dell's and 4.5/5 with 360+ customer reviews at Amazon.
Offer ends on 10/5/2015 at 7am Central or earlier if sold out…