If you are a fan of the Office Depot and Office MAX Duracell battery rewards, there is another round and this time they are "upgrading" to the 20pk of Quantum batteries instead of the 16pk of Copppertops. This new offer runs between April 16-22 (2017). You can find it at the Office Depot Rewards page (fifth row).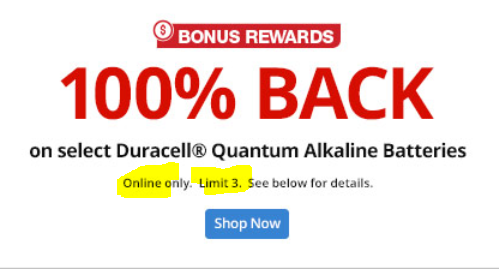 The graphic above says "online only" while the terms at the bottom of the page (appended at the bottom of the post below) say good online or by phone/fax. To be on the safe side, do online-only unless you are certain phone/fax orders will qualify as well.
The link there points to these two eligible Quantum 20-pack options (AA or AAA). Per the terms, you have a limit of (up to) three for this shopping week. You can get any combination, eg [two AA and one AAA] or [three AAA] or [three AA] or [one AA] or [two AAA] or [one AA and one AAA] or any other combo that totals up to three.
You pay the full price ($14.99 per 20-pack) plus sales tax (if applicable). Shipping is free with a $35+ order. A few weeks later, your Office Depot Rewards account will have a $14.99 reward for every 20-pack you buy.
Because these are "Bonus Rewards", they will be issued separately from the monthly Depot rewards (so they are not subject to the multiples of $10 evil restriction). They don't always send emails when rewards are loaded, so you have to check manually. Sales tax is NOT included in the Rewards, that's out of your pocket regardless.
Office Depot rewards do NOT roll. If you pay for this order with Rewards, you will NOT earn rewards. You must needs use "fresh money" (credit, debit, gift card, cash, etc).
"Bonus Rewards: 100% Back in Rewards on select Duracell® Quantum Alkaline Batteries: Valid online, by phone or fax from 4/16/17 – 4/22/17 11:59 PM ET or while supplies last, whichever occurs first. Limit 3 offers per member. This offer cannot be combined with other Bonus Reward offers on the same or similar products and services."